Atlanta, Georgia (Courtesy of the Atlanta Track Club) – In honor of the Ahmaud Arbery Foundation, over 1,200 runners took to the streets of Atlanta Saturday morning for the first annual Run with Maud 5K Run/Walk. They were accompanied by 2,000 virtual runners, raising more than $200,000 for the foundation that supports mental health resources for black boys. The event celebrated the life and legacy of Ahmaud Arbery, who was murdered while running in Brunswick, Georgia, in 2020.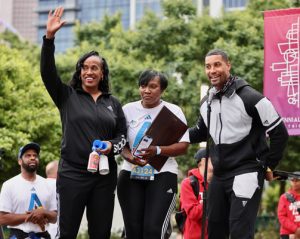 Before the race started, Wanda Cooper-Jones, Ahmaud Arbery's mother, addressed the participants lined up alongside Centennial Olympic Park. She began by expressing her gratitude for their participation, whether in person or online, in continuing her son's legacy. She said, "My heart is so full because each of you decided to run today to continue the legacy of Ahmaud Arbery. Life is short. Getting up at 4 a.m. to run makes it seem a whole lot better. Thank you for running with Maud."
Retired heptathlete Jackie Joyner-Kersee, who earned one of her six Olympic medals in Atlanta in the 1996 Games, and who narrated the Adidas series "Running While Black," joined Cooper-Jones on the starter's platform. Joyner-Kersee cheered on the four waves of participants as they got underway, saying, "It's great watching everyone run. They're running not only for a great cause but also for awareness. They're pulling people together. I'm glad to be a part of it."
Jared Bell of Atlanta, 36, was the first to cross the finish line, winning the men's race in 16:14. He was thrilled to be a part of the event, saying, "Ahmaud's story truly resonates with me because I'm always thinking about safety, being my color." Jordan Woodson, 32, of Doraville, won the women's race, finishing in 20:21.
Virtual runners participated from all over the world, including Canada, the United Kingdom, Australia, New Zealand, Singapore, the Netherlands, Portugal, Spain, and Switzerland.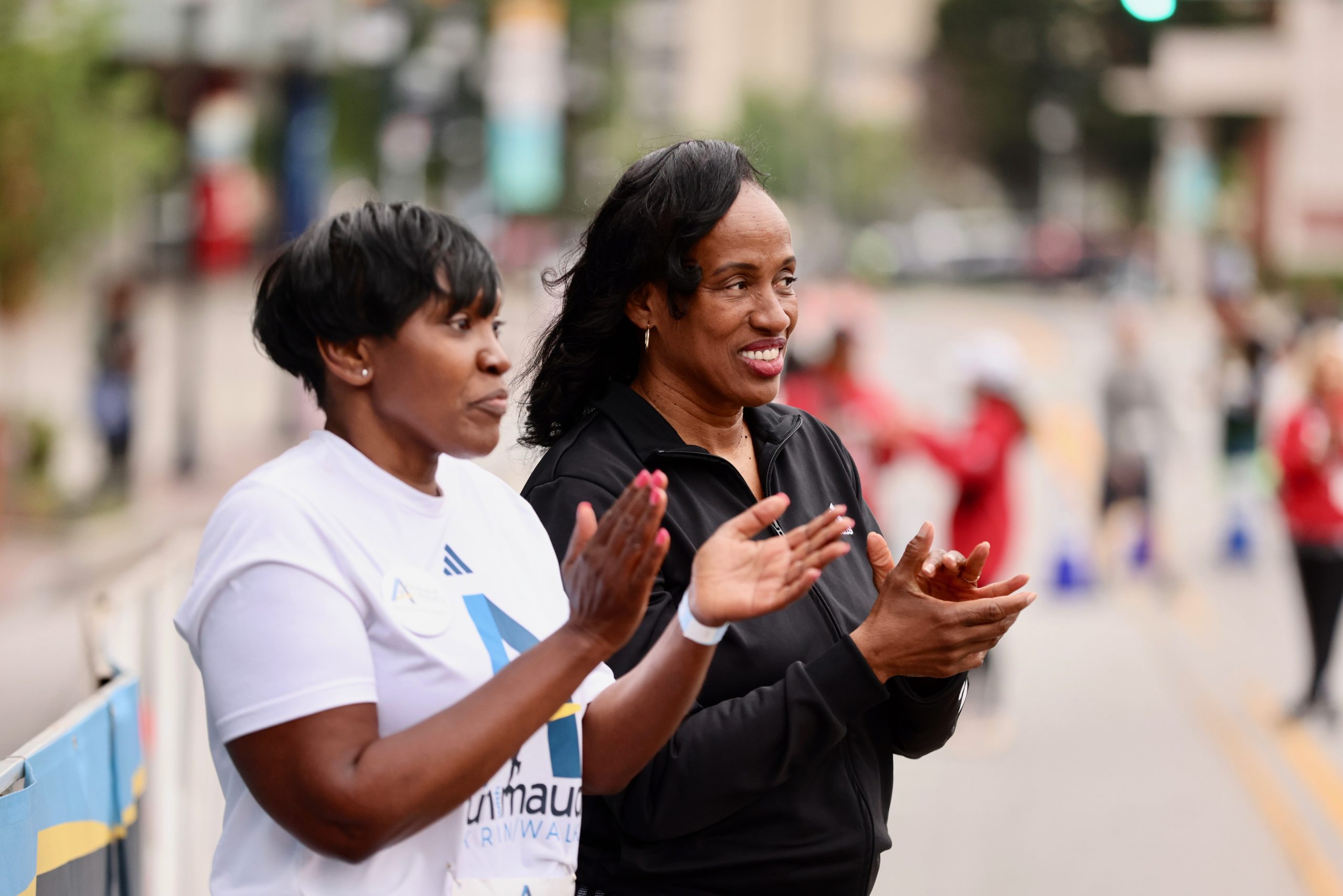 After the runners and walkers, many wearing commemorative "Run with Maud" T-shirts, crossed the finish line, they were greeted by Cooper-Jones and Joyner-Kersee before entering Centennial Olympic Park for their post-race celebration, taking group photos, and recapping their morning.
Rich Kenah, CEO of Atlanta Track Club, said, "Up until 2020, Atlanta Track Club saw its mission as getting people healthier through running and walking, but I had always thought of the physical aspect. Since 2020, culminating in this event, I think the Club and the Atlanta running community now understand that running and walking is as much about mental health as they are about physical health. I think today is a manifestation of that, and I think this running community is leading the rest of the world in understanding that running and walking are a means to an end, not an end in themselves."
In honor of the occasion, Mayor Andre Dickens sent a proclamation declaring May 6, 2023, as Ahmaud Arbery Day in the city of Atlanta. Arbery would have celebrated his 29th birthday on May 8. The event organizers hope that the Run with Maud 5K Run/Walk will continue to be an annual event to support the Ahmaud Arbery Foundation and its mission to support mental health resources for black boys.