Track and field was back in Atlanta for the first time since the 1996 Summer Olympics. The Adidas Atlanta City Games was big fun for free. It was everything track and field has been missing.
Let's not skirt the herd of elephants tightly packed in the room. There is no big secret why track and field isn't as popular here in the States as it is overseas in Europe -it's really an ocean but I digress. The original sport should be as accessible and entertaining to fans as any of the professional-level sports (NFL, MLB, NBA, NHL), maybe even more so.
Noah Lyles talked about it after winning the 150-meter dash at the Adidas Atlanta City Games on Saturday night at Centennial Olympic Park in downtown Atlanta.
The 2019 World Champion and 2020 Olympic bronze medalist is absolutely correct. Raising the profile of the sport, which should also include compensation for all of the athletes, requires these three things:
Regularly scheduled meets;
Bigger productions in Atlanta and other big cities; and
Noah Lyles
Track and field has a fan base equal to that of professional football -not the NFL- the real one – soccer. Stars on the circuit are treated like rock stars outside of the USA. Big events like the historic Penns in Philadelphia, PA are a must-see. At least half of the stands are filled with our bredren from Jamaica and Trinidad and it is LOUD and fun.
Dyed in the wool US track and field fans follow the sport as best they can there just aren't enough of them. They only get to see them on TV or a stream in Olympic years and that's only once every four years. And even then, the Olympic Trials are held in cities like Eugene, Oregon and Sacramento, California.
Eugene is lush, gorgeous, and fan-friendly but try and get a hotel reservation or a direct flight into the city. Two words, not happening. Atlanta on the other hand has an international airport, enough hotel rooms to support three Taylor Swift concerts, two Janet Jackson concerts, and an NBA playoff game on the same weekend. It's an Olympic city.
Atlanta is a city that runs. From the fellas with Black Men Run (BMR) to the Peachtree Road Race, Atlanta is the perfect place for a major track and field facility and events. The list of Olympians and World Champions living in the area, from the area, and being produced in the greater Atlanta metro area is tremendous.
Houston, LA, and the DC -Northern Virginia area are also primed for such regular events. Adidas with assistance from the Atlanta Track Club put on a spectacular event that included children from area track clubs, parents, coaches, former athletes, music, fireworks, and exciting performances. It was the perfect end to a perfect Saturday.
Lastly, track and field needs personality to go along with the extraordinary physical talent the athletes possess. Lyles, hurdler Grant Holloway, and relatively newcomers Tia Jones and Anna Hall have it in abundance. Call him brash but Lyles knows how to sell his sport. On Thursday, Lyles and his brother were in Piedmont Park for a meet-and-greet photo opportunity. The Northern Virginia native insisted on opening up the event to all of the children that wanted to participate. You see the smiles.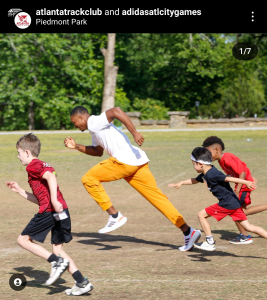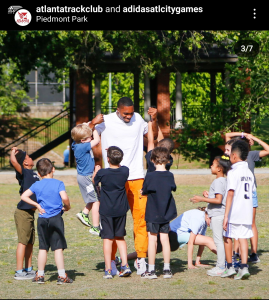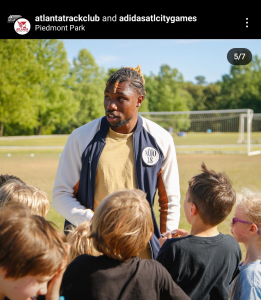 Grant Holloway turn't up after delivering a world-leading 13.01 in the final of the men's 110-meter hurdles. The former Florida Gator locked arms with Kennesaw Mountain high school grad Robert Dunning, who ran a personal best 13.09 to finish second, and swag surfed to the delight of the scores of fans surrounding the elevated track. Marietta native Tia Jones shouted out her mom and hit a bop after putting on for her city and winning the women's 100-meter hurdles. More of that sauce, drip, swag please and thank you.
Track and field is entertaining and there are numerous athletes with incredible personalities that should be allowed to do just that -be themselves.
USA Track and Field, Nike, Saucony, Brooks, if you are listening…the fans want more. Can you handle it? Let's go!
Results

Meet Image Gallery
All photos by Jason McDonald, JM Photography for CORE 360 Sports