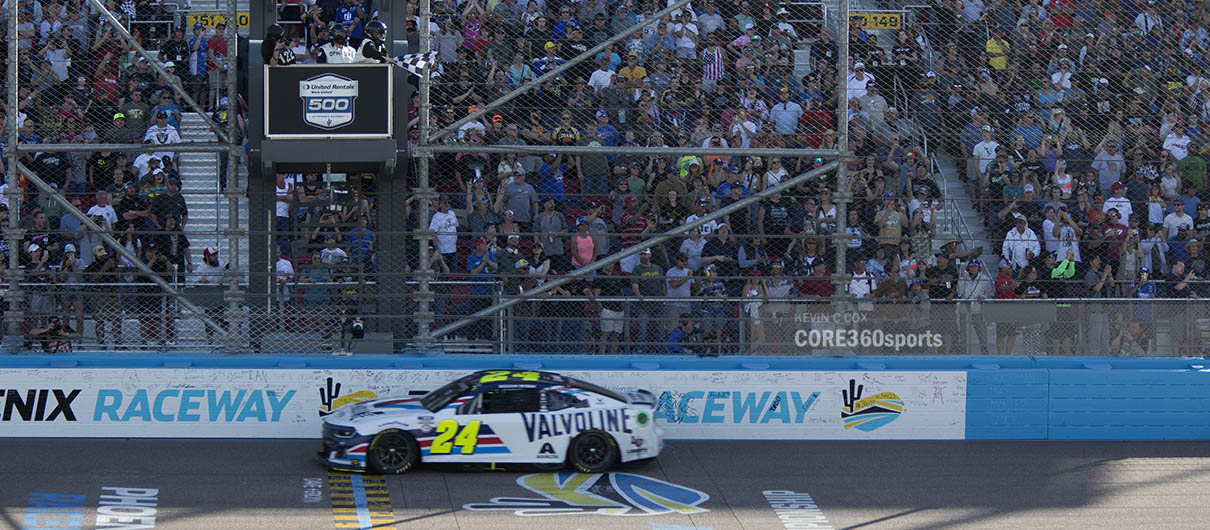 William Byron followed up his win in Las Vegas last week by running it back at Phoenix Raceway on
Sunday. In similar fashion, he was able to take advantage of a late race caution, then hold off teammate
Kyle Larson, to take the checkered flag in the United Rentals Work United 500.
Crew chief Rudy Fugle made the key strategy call on the final stop to give his driver the edge he needed.
After the win, Byron acknowledged Fugle, and the entire HMS organization.
"I owe the last couple of weeks to him," Byron said of Fugle's race-winning calls the past two weekends.
"He's done a really good job strategy-wise, and execution-wise. We've done a good job to put ourselves in
those positions on the front row with a shot at the end.
"Thanks to everybody back at Hendrick Motorsports putting together great cars and just doing a great
job" Byron continued. "It's a big credit to them, the engine shop, Mr. Hendrick and everybody."
The win marked the first for Byron at the 1 mile track in Avondale, AZ.
All four Hendrick Motorsports cars finished in the top 10. As an organization, they leave the West Coast
on a roll heading into Atlanta. Their Chevy's have been amazingly fast to start the season. Even Josh
Berry, who's filling in for the sport's most popular driver in Chase Elliott, is showing speed.
That fact hasn't gone unnoticed by NASCAR officials. After the race on Sunday, the hood louvers on all 4
Hendrick cars were confiscated and taken back for further inspection.
Photo Gallery
All photos by Kevin C. Cox, Maximum Exposure for CORE360 Sports