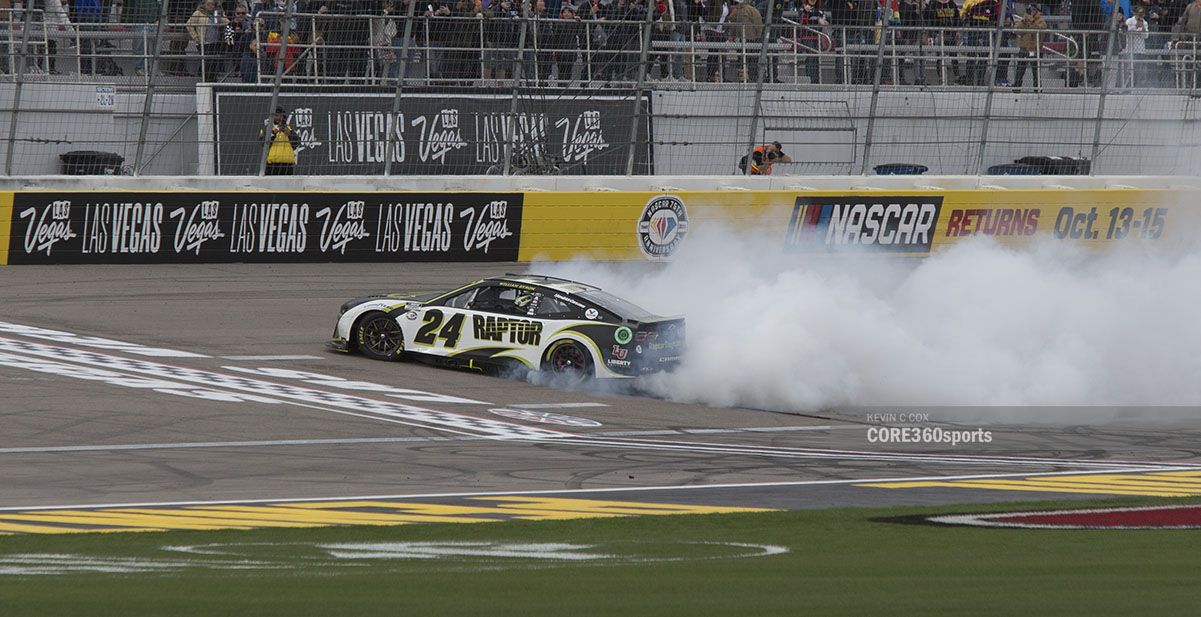 To say William Byron had himself a day on Sunday would be an understatement. He drove his #24 Raptortough.com Chevrolet to an overtime victory in the Pennzoil 400 at Las Vegas Motor Speedway.
Byron led 176 laps, pacing the way to a 1-2-3 finish for Hendrick Motorsports. In fact, some of the most exciting racing took place between him, and teammate Kyle Larson, who took second place.
Larson was leading the race by 2 seconds with only 4 laps remaining. On lap 263 Aric Almirola spun into the outside wall in turn 4. A caution flag was thrown and that gave Byron's crew a chance to be the difference. He was able to exit pit road ahead of Larson and go on to victory from there.
Joey Logano put his Pennzoil Ford on the pole for his sponsor's race. The Middletown, CT native continues to feel at home on the mile-and-a-half track in Las Vegas.
He made the most of fading cloud cover during qualifying to post a top speed of 186.053 miles per hour.
"We felt like we had a pretty good first round, but there are a lot of cars that went quicker in the second round as the track was still cleaning up from practice and the temp actually went down a little bit," Logano said. "I felt like I had a little bit more in me and if we could tune the car a little maybe there is a little more there and maybe a little more with the track temp going down. You add those things up in your mind, and you think you will be pretty close."
Unfortunately, his qualifying effort didn't translate to performance on race day. He struggled to find speed for most of the afternoon. While racing closely with Kyle Busch and Brad Keselowski, he bumped the wall, forcing him to go sliding through the infield grass on the front straight.
The defending series champion, and most recent winner at Las Vegas Motor Speedway, would end up the only car out of the race, giving him a first-to-worst effort for the weekend.
Photo Gallery
All images Kevin C. Cox, Maximum Exposure for CORE360 Sports