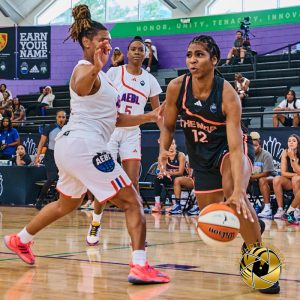 Four players scored in double figures and the defense grabbed 10 steals to propel The M.O.B to a 67-51 win over B.A.N.S in AEBL women's summer league pro-am action on Saturday afternoon.
Shavonta Zellous led the winning squad with 14 points and 8 rebounds. Ezinne Kalu, Kristina King, and April Sykes helped out with double-figure scoring efforts. King had a double-double with 11 points and 13 boards. Ten of King's rebounds came off the defensive glass.
In the paint, M.O.B's size with King, Kaelyn Causwell, and Victoria Harris controlled the paint outscoring their opponents 34-20.
Tya Gibson had a double-double with 17 points and 10 rebounds to pace B.A.N.S. Nikki McDonald was the only other teammate. McDonald had 14 points and 11 rebounds, 8 on the offensive glass.
The M.O.B moves to 4-0 at the midpoint of the season. B.A.N.S drops to below .500 at 1-2.
Photo Gallery
All photos c. Jason McDonald, JM Photography for CORE360 Sports