Head Coach T.C. Taylor did what no Jackson State Tigers coach was able to do in three previous trips to Atlanta, he won. The former J-State star receiver did so in dominant fashion dispatching the Tigers' 2019 Celebration Bowl nemesis South Carolina State 37-7 in the 2023 week zero MEAC-SWAC Challenge on Saturday in Atlanta.
Erasing the past two years of season-ending disappointments won't be easy, although improving to 1-3 in Atlanta was a good start. Taylor was handed the keys to a nearly empty pantry after attention magnet Deion Sanders bolted for the thin air of Boulder, Colorado with more than a few players in tow.
Rebuilding or Reloading
When the dust cleared, Taylor and his growing staff were tasked with rebuilding a team that lost only two games in two years. Unfortunately for the fans that rock #theeIlove shirts, both losses were in the Celebration Bowl.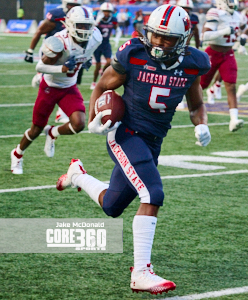 Over 70 new players -transfers and freshmen- joined a roster of about twenty-three holdovers (including the head coach and two assistants) when camp opened. The new-look Tigers did not release a depth chart in the weeks leading up to the game and waited until game time to name one of the four quarterbacks in camp the starter. While Coach Taylor was a new head coach, he began ascending the coaching ranks in 2005. He spent five years on the staff at North Carolina Central that lost a heartbreaker in the 2016 Celebration Bowl.
It was at NCCU where he and SC State Head Coach Buddy Pough first competed against one another. Pough said he expected a tough game based on the games the Bulldogs played against the Eagles in the MEAC regular season.
The biggest challenge for Coach Taylor with so many new faces, was getting them on the same page in a short amount of time. Coach Pough's biggest challenge involved replacing his offensive coordinator this summer.
With all of the new depth upfront, especially on the defensive line, Jackson State needed to replace arguably one of the best young quarterbacks in college football – Shadeur Sanders. Coach Taylor went with the veteran Jason Brown to start the season.
Virginia Tech, that school in Blacksburg, transfer Jason Brown did not let his new coach down. Brown, who had been granted a seventh year of eligibility, had a history of success having earned 2019 FCS All-American status at St. Francis (PA). Brown left St. Francis for South Carolina where he played a season before heading to that school on the plateau between the Blue Ridge and Allegheny mountains that desperately needs odor control.
No one in the know could say for certain what to expect from the new-look Tigers including SC State head coach Buddy Pough. The veteran coach, who announced his retirement on Dr. Cavil's Inside the HBCU Sports Lab podcast earlier in the week, talked about the difficulties of preparing for the revamped team.
2023 Tigers Offense is Better
The signs were there early. Jackson State scored on their third offensive play. Irv Mulligan hit a hole on the right side of the line and raced 46 yards to the south end zone. The grad transfer from Wofford led all rushers with 109 yards on 13 carries. Mulligan and returning running back J.D. Martin combined to outrush the entire Bulldogs backfield on two fewer carries, 145 yards to 138 yards.
New Jackson State offensive coordinator Maurice Harris brought in a new philosophy one that helped propel former Liberty quarterback and Atlanta native Malik Willis into becoming a third-round selection by the Tennessee Titans. Coach Pough's defense had only a few victorious against the Tigers' offense. He credited the Tigers' ability to change the attack as the key to their success against his Bulldogs' defense.
The successful running game and changing schemes put a lot of names on the stat sheet. Eight receivers caught at least one ball as Brown passed for 361 yards on 26 of 33. Two of the one-catch receptions, Andre Hunt and Jency Riley, were for touchdowns. Hunt capped a 9-play drive taking a short pass from Brown on a 44-yard excursion into the north end zone. The scoring play was nearly identical to Riley's 35-yard catch and score in the second quarter.
Brown was named Most Valuable Player for his performance in leading the Tigers.
Comfortably ahead 34-0, Jackson State fans began celebrating their first MEAC-SWAC Challenge win in three tries by the end of the third quarter. There wasn't much Coach Taylor needed to say after the final whistle. After hoisting the trophy and thanking the J-State fan base, Taylor fired a shot of his own, "They know now," in reference to the Tigers' scheduled opponents, who like SC State, were probably wondering what Jackson State would look like post-Deion Sanders.
One thing we know for sure is this Jackson State coach is definitely SWAC.
Game Photo Gallery
All photos © Jason McDonald, JM Photography for CORE360 Sports