ATLANTA – As the MexTour's 20th-anniversary festivities roll on, soccer enthusiasts can look forward to a series of exhilarating matches featuring the Mexican Men's National Team on American soil this Fall. The Federación Mexicana de Fútbol (FMF) and Soccer United Marketing (SUM) have jointly unveiled the plans for the celebratory tour, with the recently crowned 2023 Concacaf Gold Cup Champion team gearing up for four intense battles across the United States.
Three of the cities on the tour -Atlanta, Dallas, and Philadelphia- were named hosts for the 2026 World Cup qualifiers.
The upcoming tour, slated to occur during two FIFA windows, will see the teams assemble their finest squads for a riveting showdown. Kicking off the series is a face-off against Australia at the illustrious AT&T Stadium in Arlington, Texas, on September 9th. This clash will not only serve as an important challenge for the Mexican squad but will also aid Australia in their preparations for the upcoming Asian Cup and the 2026 World Cup qualifiers.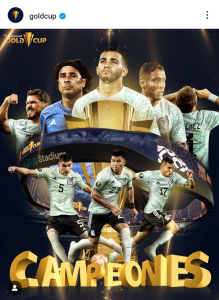 Only three days later, on September 12th, a historic encounter is set to take place at Mercedes-Benz Stadium in Atlanta, as the Mexican national team goes head-to-head with Uzbekistan. The spotlight will shine brightly on this duel, as it unfolds in one of the venues designated for the 2026 World Cup.
Marking a return to the United States in October, the Mexican National Team squares off against Ghana on October 14th. Although the venue for this matchup remains unconfirmed, anticipation is running high among soccer aficionados. The grand finale of this electrifying quartet of matches is scheduled for October 17th, when Mexico crosses paths with Germany at Lincoln Financial Field in Philadelphia.
For soccer enthusiasts, this tour holds immense significance as it commemorates the MexTour's 20th year of existence. Alongside their engagement with Australia and Ghana, Mexico is set to lock horns with other formidable opponents, including Germany and Uzbekistan, in September and October as part of the anniversary celebrations.
The Mexican National Team's Atlanta rendezvous on September 12th marks a momentous occasion. This event will mark their fourth appearance at Mercedes-Benz Stadium since its inauguration in 2017, underlining the team's deep-rooted connection with the venue.
Reflecting on past visits, the Mexican National Team's history with Atlanta remains vibrant. Last year, they graced the city with their presence in an enthralling match against Paraguay, which drew a crowd of over 50,000 fervent fans. Prior to that, in June 2021, more than 70,000 spectators witnessed the clash against Honduras. The journey began in June 2019, as the team played their first match at Mercedes-Benz Stadium against Venezuela, capturing the hearts of 50,000 fans.
Soccer enthusiasts looking forward to the upcoming matches can seize the opportunity to secure their tickets. Charlotte FC subscribers' exclusive presale will commence on August 10 at 2 p.m., followed by the general ticket sale starting on August 11 at 10:00 a.m., accessible through Ticketmaster and www.SomosLocales.com.
The much-anticipated clash against Ghana holds additional significance, as it marks the fourth encounter between the two teams. Mexico's perfect 3-0-0 record against the Black Stars fuels excitement for this match set to unfold in Charlotte.
In a whirlwind of captivating soccer events, the MexTour presents an array of thrilling matchups this Fall:
September 9: Mexico vs. Australia at AT&T Stadium in Arlington, Texas
September 12: Mexico vs. Uzbekistan at Mercedes-Benz Stadium in Atlanta
October 14: Mexico vs. Ghana Bank of America Field in Charlotte
October 17: Mexico vs. Germany at Lincoln Financial Field in Philadelphia
The history between Mexico and Ghana adds an extra layer of intrigue to the upcoming matches:
Total Matches: 3
Record: Mexico 3 wins, Ghana 0 wins, 0 draws
Total Goals Scored: Mexico 4, Ghana 1
Last Match: June 28, 2017, MexTour, Houston, TX, Mexico 1-0 Ghana
Soccer enthusiasts can mark their calendars for a series of exhilarating clashes, with the first kickoff scheduled for September 9th at AT&T Stadium. Following that, the action continues on October 14th and culminates with a clash against Germany on October 17th in the historic city of Philadelphia.