HBCU Basketball Coaches Set to Converge in Atlanta for Inaugural All-Stars Coaches Clinic
By [Your Name], Sports Journalist
ATLANTA (August 14, 2023) – The spotlight on Historically Black Colleges and Universities (HBCUs) continues to intensify as HBCU All-Stars LLC announces an exciting first-time event on the basketball coaching landscape: the HBCU All-Stars Coaches Clinic. Set to take place on Saturday, September 16, 2023, at the Georgia State University Convocation Center, this clinic promises to gather some of the most accomplished and revered coaches from the Southwestern Athletic Conference (SWAC), Mid-Eastern Athletic Conference (MEAC), Central Intercollegiate Athletic Association (CIAA), and Southern Intercollegiate Athletic Conference (SIAC).
"The HBCU Basketball Movement across the nation deserves the national spotlight," stated Travis L. Williams, the Founder and CEO of HBCU All-Stars LLC. Drawing from his own extensive coaching experience at institutions like Tennessee State and Fort Valley State Universities, Williams emphasized the importance of recognizing the exceptional talent, dedication, and achievements of HBCU coaches.
Williams remarked, "With a record of regular season and conference championships, along with appearances in NCAA and NIT Tournaments, these brilliant HBCU coaches stand as a testament to excellence." The inaugural Coaches Clinic aims to bring together these coaching luminaries to share insights, strategies, and expertise that have propelled them to success. Their contributions extend beyond the court, with their dedication and mentorship impacting players' lives on and off the hardwood.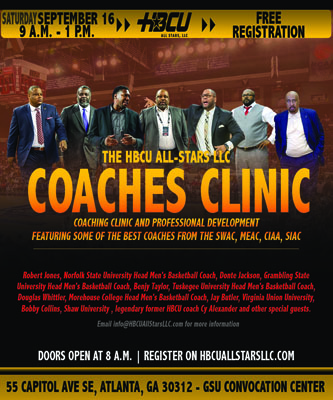 The HBCU All-Stars Coaches Clinic serves as an invaluable platform for professional growth and networking, serving as a prelude to the forthcoming 2023-24 basketball season. Atlanta, known for its rich basketball culture spanning middle school to collegiate levels, becomes the epicenter for this gathering of basketball minds.
Among the distinguished coaching figures slated for attendance are Robert Jones of Norfolk State University, Donte Jackson of Grambling State University, Benjy Taylor of Tuskegee University, Douglas Whittler of Morehouse College, Jay Butler of Virginia Union University, Bobby Collins of Shaw University, and the esteemed Cy Alexander, renowned for his contributions at South Carolina State, Tennessee State, and North Carolina A&T Universities.
The HBCU All-Stars Coaches Clinic not only underscores the prowess of these coaches but also highlights the esteemed legacy of HBCUs in both academics and athletics. The event, scheduled from 9 am to 1 pm EST, will be hosted at the Georgia State University Convocation Center. Attendance requires registration, and interested participants can sign up at HBCUAllStarsLLC.com. Doors will open at 8 am, ensuring a vibrant start to the day.
For ardent fans seeking to engage further with HBCU basketball, the second annual 2023 ATL Has Something to Say HBCU All-Stars Challenge beckons. This premier black college basketball event will spotlight top players and coaches in the HBCU community. The games, held at Morehouse College Forbes Arena in Atlanta, will span two days, Friday, November 17, and Saturday, November 18, featuring a lineup of captivating matchups starting at 2 p.m. and 12 p.m. ET, respectively. Additionally, the Atlanta Public Schools game will tip off at 10 a.m. ET on Saturday.
Tickets for these thrilling games are available for purchase on Eventbrite.com, allowing fans to immerse themselves in the excitement of HBCU basketball excellence.
As the HBCU All-Stars Coaches Clinic and the ATL Has Something to Say HBCU All-Stars Challenge date gets closer, the basketball world eagerly anticipates the convergence of talent, passion, and dedication that define the essence of HBCU sports.