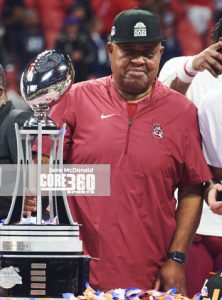 In just about a week Jackson State and South Carolina State will revisit their sensational 2021 Celebration Bowl match-up. This time the squads will kick off the HBCU football season in Atlanta instead of closing it out.
Jackson State is no longer Deion Sanders' team. Shadeur Sanders is no longer the quarterback. In fact, the faces on this 2023 team will be largely unrecognizable from the squad that finished the 2022 season with a loss to North Carolina Central. Only four Tigers on the current roster saw minutes in the 2021 game against the Bulldogs.
New JSU head coach T.C. Taylor admitted that he welcomed at least 70 new faces to the Mississippi capital. You read that right, 70.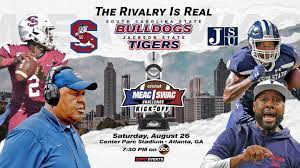 Six hundred miles down I-20 east -hang a right on state route 39- in Orangeburg, SC, Head Coach Buddy Pough is smiling ear to ear. Pough returned 28 players from his 2021 HBCU National Championship team. Gone are wide receiver Shaquan Davis-Saints and defensive back Decobie Durant-Rams but the pantry is far from bare. Of the 28 returning players, 16 from that team are listed as potential starters on the preseason depth chart.
Included on that list are 11 Bulldogs that played in the 2021 game. If that's not enough to make Pough smile like the Cheshire Cat, four Bulldogs were named to the Mid-Eastern Athletic Conference Preseason First Team, and four more were named to the Second Team. Most of Pough's Bulldogs starters were raised up from puppies. And that includes quarterback Corey Fields, who as a red-shirt sophomore, led the Bulldogs to their first Celebration Bowl victory.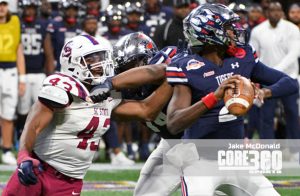 Fields and his offensive line grew up together during a rough 2022 season that saw the Bulldogs finish an uncharacteristically dismal 3-8. Dallas Foard, Cam Johnson, Ian Shark and Eric Brown gained valuable experience as underclassmen on that championship team. They will provide Fields time to find battle-tested receivers Rakim White and Richard Bailey.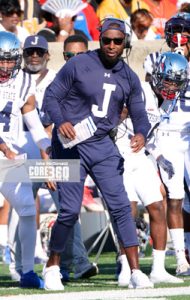 On the defensive side of the ball, the Bulldogs return twelve from the 2021 team including three All-MEAC defenders like linebacker Aaron Smith. The local product was second on the team in tackles behind the departed BJ Davis (transfer to East Carolina). Smith will have defensive lineman Jeblonksi Green, Octaveon Minter, Brandon Tucker, All-MEAC Jared Kirksey, and All-MEAC edge rusher Patrick Godbolt keeping him clean to run to the point of attack.
Grad student and Pough-raised free safety Demarkiis Doe will quarterback the secondary. He will be assisted by Jaylen Evans and Alcorn State transfer Malcolm Magee. Magee played sparingly for the Braves after arriving from Colorado State. Delaware State transfer Aiden Webber is penciled in as the starting weakside linebacker. Webber racked up 11 tackles for the Hornets last season against the Bulldogs.
What is truly impressive about the Bulldogs team is the number of graduate students that completed their undergraduate studies at SC State. Well done. There are a few transfers sprinkled in, like former UT Chattanooga/South Carolina tight end Keshawn Toney (GS) who can make an impact. The addition of Toney gives Pough two talented tight ends aka the most underutilized position in college football.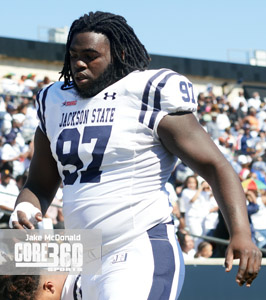 Taylor is on the other end of the transfer portal spectrum. His challenge will be to find a quarterback, receivers, an offensive line, a secondary, and a depth chart and get them all to gel. Whoever emerges to fill the starting roles will have a tremendous amount of weighty expectations on their shoulders.
Twice the Tigers have been to the mountain top and twice they were sent back down the hill. Taylor and his staff have their work cut out installing both an offense and a defense to go up against the experienced Bulldogs. Defensive linemen Devonta Davis and Coynis Miller Jr are holdovers as is linebacker Khalil Arrington who is a 4-year letterman at J-State.
If there ever was a time to shine in a moment and be canonized in J-State lore, it will be in Atlanta on Saturday, August 26 at 7 p.m. Despite the large number of J-State alumni that live in the area, Atlanta has not been kind to the Tigers. They have lost two Celebration Bowls (NC Central and SCSU) and a MEAC-SWAC Challenge to division-mate Bethune Cookman -formerly of the MEAC. In fact, J-State is 0-4 in inter-conference games. Hampton defeated the Tigers 17-13 in the 2009 MEAC-SWAC Challenge.
Since we are talking records, SC State is 1-0 in the Celebration Bowl and 3-1 in MEAC-Challenge games, including the season opener's first match-up in 2005.
MEAC – SWAC Challenge Scores
| | |
| --- | --- |
| SC State | Jackson State |
| 2005: SCSU 27 – Alabama St 14 | 2008: Hampton 17 – J-State 13 |
| 2009: SCSU 34 – Grambling St 31 | 2019: BCU 36 – J-State 15 |
| 2015: SCSU 35 – UAPB 7 | |
| 2017: Southern 14 – SCSU 8 | |