Atlanta, GA – Over the course of five action-packed days at Bobby Jones Golf Course, the 2023 World Long Drive Championship unfolded in thrilling fashion. As the dust settled on Sunday, the sport's elite athletes took their well-deserved bows, and a new chapter in long drive history was written. With champions emerging in the seniors, women's, and open divisions, this championship showcased the exceptional talent and fierce competition that define the world of long driving.
Seniors Division Glory for Ryan Reisbeck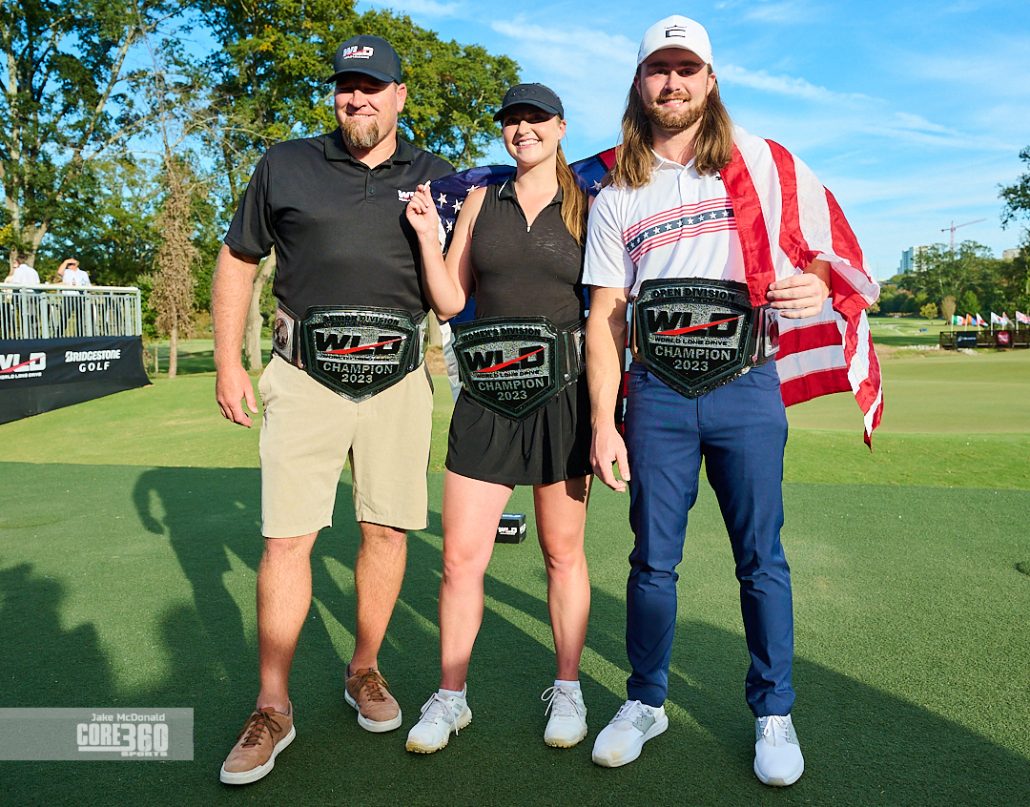 In the Senior Division, the spotlight shone on the resolute 45-year-old Ryan Reisbeck, who secured his first World Championship title in a dramatic showdown. The Salt Lake City native, competing in his 13th year, has always been on the cusp of greatness. In a nail-biting finale, Reisbeck outdrove Robert Oristaglio with a 372 to 368-yard victory. Reisbeck has shown remarkable consistency, reaching the finals in all three Senior Division events he's participated in. His crowning moment came with a top drive of 390 yards, a testament to his unwavering dedication to the sport.
Reisbeck's remarkable feat didn't stop there. He made his presence felt in the Men's Open Division as well, showcasing his versatility as a long driver. His journey into Round Two of the Men's Open Division at 12:15 p.m. ET on Friday is a testament to his all-around skill.
Kyle Berkshire's Remarkable Triumph
The Men's Open Division witnessed an exhilarating contest with reigning champion Kyle Berkshire determined to hold onto his title. Berkshire's performance was nothing short of breathtaking, exemplifying his status as the World No. 1. He blasted a jaw-dropping 450-yard drive, the longest of the Championship, proving his mettle as a two-time World Champion.
Berkshire's path to victory was not without its challenges. He maintained his composure throughout, demonstrating that championship experience is invaluable in high-pressure situations. His ability to outdrive his opponents was on full display as he faced Justin James and Zack Holton in the quarterfinals and semifinals, respectively.
The champion's words after securing his third World Championship title summed up his approach: "I knew it was gonna be right on top of his number that's why I was saying get a big bounce, not necessarily long, but a big bounce straight because I knew there's a mogul there about 380-390 and if it hits it a certain way it can kick off to the left."
Monica Lieving's Maiden Victory
In the Women's Division, the competition was equally fierce, and emerging as the new queen of long drive was World No. 2, Monica Lieving. She earned her first career world championship, a testament to her remarkable consistency and undeniable talent.
Lieving's journey to the title was marked by excellence. She secured a perfect score by winning all her sets in the opening round, showcasing her exceptional skills and determination. Her longest drive of the afternoon at 361 yards highlighted her dominance in the Women's Division.
Phillis Meti started the finals round missing the grid three consecutive times. Lieving eased the pressure with three misses of her own. The second set looked very much like the first for the former champion leaving the door wide open for the number two ranked player. "At that point, I just needed to get a ball in play," said Lieving. "It didn't have to be my furthest but that's just how you have to roll with the game sometimes."
While Lieving's performance was exemplary, we can't overlook the strong showing by Atlanta residents Phillis Meti and Alexis Belton. Meti, a four-time World Champion, thrilled the home crowd with a top drive of 350 yards, while Belton, who returned to competition after a few years, showed she still had the competitive fire in her, winning three of her four sets.
New World Champions Emerge
As the weekend's action came to a close, two new World Champions were crowned. Kyle Berkshire's third World Championship win places him in elite company alongside Jason Zuback and Sean Fister as the only competitors to win three or more world championships. His remarkable consistency and ability to thrive under pressure make him a force to be reckoned with in the world of long drive.
Phillis Meti, although not claiming the championship in the Women's Division this year, made her presence felt with her powerful drives. Her 382-yard drive in the quarterfinals was the longest of the year in the Women's Division, reaffirming her status as a seasoned veteran in the sport. Meti's contribution to the sport's growth and her achievements over the years make her an enduring figure in long drive.
A Championship to Remember
The 2023 World Long Drive Championship was a testament to the sport's enduring appeal and the athletes' dedication to pushing the boundaries of human performance. Over the five-day spectacle, moments of triumph, determination, and remarkable skill were on full display. The Bobby Jones Golf Course in Atlanta bore witness to history in the making, as new champions were crowned and legends added to their legacy.
As we look back on this Championship, one thing is clear: long drive is not just a sport; it's a showcase of human potential and an embodiment of unwavering dedication. It's about pushing the limits and consistently striving for excellence, just as Ryan Reisbeck, Kyle Berkshire, and Monica Lieving did on their path to victory.
The 2023 World Long Drive Championship will be etched in the annals of the sport's history as a testament to the indomitable spirit of these athletes and their pursuit of greatness. This Championship not only celebrates their achievements but also sets the stage for even more spectacular long drive competitions in the future. We eagerly await the next chapter in this remarkable journey.
Championship Photo Gallery
All photos by Jason McDonald, JM Photography for CORE360 Sports