Losing is never pretty but getting dragged around your home turf is downright hideous. Tim Lester's Broncos did a lot of dragging Saturday afternoon rolling up 528 yards of total offense to defeat the Panthers 34-15.
"In my entire career I've never thought that it would come to a day where you see the fight really taken out of our football team," said Georgia State head coach Shawn Elliott. "It's one of the things that we talk about a lot, is having tremendous fight and there wasn't a whole lot of fight out there. If there was, it was that other team, cause our fight wasn't there."
The Panthers looked ready for battle holding the Broncos to a field goal through the first quarter.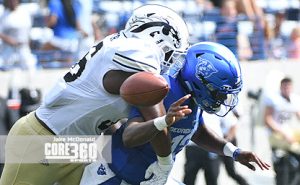 Later in the second, quarterback Dan Ellington's 10-yard touchdown run erased a 10-point deficit to draw the Panthers to within 4.
Western Michigan's Jon Wassink answered Ellington's score by tossing six completions for 59 yards and rushing for 18 more for a score in less than 2 minutes.
"I felt that two-minute drive was big," said Lester. "I feel—I've been saying this for a while—we have to be able to run and throw if we're going to go where we want to go."
The Broncos did a lot of both. Wassink was 20-25 for 234 yards and three touchdowns. Jamauri Bogan and LeVante Bellamy both gained over 100 yards rushing for 247 of the team's 294 yards on the ground. Bogan's 71-yard touchdown run sapped whatever life was left in the Panthers' defensive unit.
"Defensively our strong suit, up until the last two weeks, has been to stop the run and have an ability to really shut down the running game," said a visibly introspective Elliott. "In the last two weeks, there has been an inability to get a hat on the ball carrier, defend out gaps, make adjustments, and go out and execute."
The blue cats get another chance to get back on the winning side when the 2-2 Warhawks of Louisiana-Monroe come to Atlanta on Saturday. Louisiana-Monroe is riding a pair of wins over Southern Miss and Southeastern in the last two weeks. The Warhawks offense is averaging 431 yards with 167 of it coming from the ground game.
They'll be licking their beaks if the Panthers' defense can't get their mojo back.
Game Photos
All photos by Jason McDonald, JM Photography for CORE360 Sports