The Morehouse Maroon Tigers jumped all over the Lane Dragons to open their home schedule with a 24-10 win at B.T. Harvey Stadium Saturday.
Kivon Taylor led a 7-play 65-yard drive to give the Maroon Tigers the first score of the game. Taylor completed 4 passes for 20 yards on the drive and a face mask penalty on Lane added another 15. Once inside the red zone, Taylor took over. He hit Santo Dunn for a 9-yard gain before rushing up the middle for the score.
The score gave the Maroon Tigers a lead they would never relinquish.
Morehouse squandered an opportunity to go up 14 early in the second quarter. The 74-yard drive stalled inside the 10 when Ricci Nuckles was unable to come down with the reception in the end zone on third and goal. Fem Sdelamora salvaged the drive with a 23-yard field goal.
Lane finally got on the scoreboard at the end of the second quarter. A 43-yard punt but Alex Gonzalez from inside the Morehouse 20 gave the Dragons their best field possession of the game. A pair of passes from Thurston Rubin to Ahmad Isaac covered 27 yards but it was as far as they would go. Vincente Luis Ju split the uprights from 44 yards out to close the gap to within a touchdown.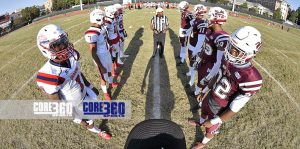 True freshman Michael Sims replaced Taylor late in the third quarter and accomplished a couple of firsts in front of the home crowd. He completed his first pass, a 14-yarder to Ryan Edwards, and his first fumble. Antonio Thomas recovered the loose ball at midfield for the Dragons.
Sims showed he already possessed the short memory needed at the collegiate level. His second shot at the Dragons' defense went like clockwork. Through the air, the freshman was a perfect 4 for 4 on the drive. He found Amyr Smith for a 13-yard score on second and 8.
The Maroon Tigers' defense ate up the Dragons' next offensive series. First, defensive tackle Kamari Jones-Hunter sacked Rubin on second down for a 16-yard loss. Then on fourth down defensive back Jonathan Cummings forced Luis Ju to cough up the ball. Gary Awkard alertly recovered the fumble for Morehouse at the 23-yard line of Lane.
A pass interference penalty on Lane defensive back Reginald Ware gave Morehouse first and 10 at the 2. Sims carried the rock into the end zone for his first career touchdown.
Junior quarterback Marcus Reynolds gave Lane its only touchdown of the game midway through the fourth. Reynolds found Quantavius Wils for a 5-yard touchdown to cap a 7-play, 65-yard drive.
Morehouse will travel to Wilberforce, Ohio to take on Central State University at 1:00 pm. The Marauders were on the wrong side of a 14-55 thumping at Clark Atlanta. The Panthers rushed for 356 yards and passed for another 288 in the game.
Game Gallery
All photos by Jason McDonald, JM Photography for CORE360 Sports